This summer we have been very busy. We have spent many days working on the renovations at Dynamite Rio Verde and Eastern Railways. There have been a few challenges and a lot of excitement. This project is far from being finished… but rebuilding a 3000 ft layout cannot be done over night! We are working very hard to recreate some of the "WOW" factors in the railroad as well as preserving the existing ones.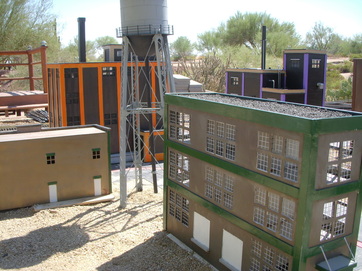 One of our big projects in the layout was to completely reconstruct and painted all the buildings in the city. Some of the buildings were in pretty bad shape. We managed to save all but four. There are plans in the works to add turf to the city as well as lights and figures to give the city a busy warm feeling.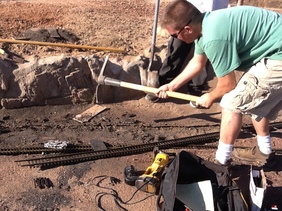 We have reconstructed and reworked about 600ft of track. This was not an easy fix to produce. We took the existing rail and ties out. Then because of the sticky material that was previously used to hold the track down we had to develop a process to clean the brass completely and add new ties. Damian found a company in Texas that produces new plastic ties that are easily connected to the brass. Then we cleaned the old brass rails with a lacquer thinner. This removed any of the old sticky glue. We ballasted the track with a loose crushed stone. Damian had to add proper drainage to some of the areas so that the ballast does not get washed out. This loose material makes it easy to maintenance the track in the future.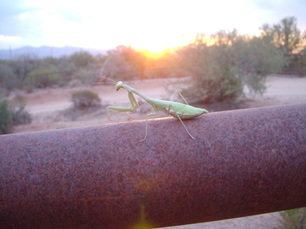 We have had the privilege of being introduced to some of the native wildlife neighbors out here at Dynamite. Damian has successfully removed 4 Rattle Snakes! We have found that they like to make an exciting appearance just after the sun comes up or is setting. There have been a few coyotes, as well as some friendly lizards some the size of a small cat. This wild life is a beautiful example of Mother Nature's greatest work! We really enjoyed watching the neighbors!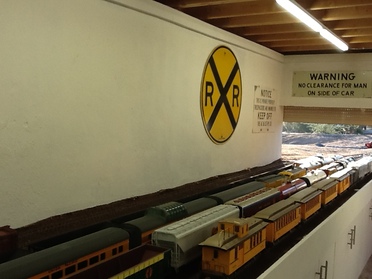 The train barn has been repainted inside with a clean fresh coat of white paint. This gives the train barn a bigger polished feeling. Damian added a quick fix to the floor of the barn by adding some of the natural pebbles from the pathways to concrete. He added the mixture to any cracks in the floor. We also repainted some of the walls in the layout.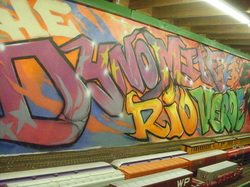 We absolutely love working out at the Dynamite Rio Verde and Eastern Railway. There are many great plans in the works to continue to improve this beautiful layout. We are planning to have Trains running by November. So please check back with us for more updates.